It's contest season in the Toastmasters' calendar and last week London Victorians held their Humorous Speech and Table Table contests. As always, club contests are a great way to show off some of a club's more proficient speakers while giving others their first taste of competitive speaking.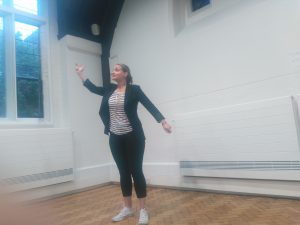 The contests kicked off with the Humorous Speech contest with Contest Chair, Andrew, confirming with the Chief Judge that all judges had been briefed. He then introduced the first speaker. Charlotte began by playing on the common social insecurity of how her job title never seemed to be as impressive as her friend's. She told of the time, as a wedding witness, she was called up among a surgeon and consultant as "admin" and from there on decided it was better to lie about her job. With great storytelling skills, she recalled convincing her nephew she was actually a spy and the consequences that come with telling white lies, especially with children involved.
Next up was Alex who vexed over how the popular dating app Tinder had taken the challenge out of dating. He reminisced about the days when meeting a girl meant calling the family's home phone and convincing a protective father that they should be allowed to speak! He then described the hilarious responses he received when setting up parody accounts for famous people including Kim Jong Un who, apparently, was looking for a new girlfriend after the strange disappearance of his wife.
Nick followed with what was to be a dress rehearsal for his upcoming best man's speech. I'm sure there are a few toastmasters who appreciated this speech as the fear of a pending best man's speech is an often cited reason for members first joining Toastmasters. If you're going to entertain both the bride and grooms family and friends then you'll want to make it funny. Nick did not disappoint with just the right balance of embarrassing anecdotes and supporting words.
Thomas' speech reminded us about young love and the joys of dating. In his words, he was "young, handsome and looking for love". Playing on the insecurities we all know about at that stage of life, he told the story of his dream date that turned to disaster and put him firmly in the "friend zone".
If you want to be sure of a few laughs then comparing human behaviour to animals is never going to disappoint. Mohammed talked about his observation of animals and thought what we could learn from them. Giving himself many opportunities for facial expressions and full use of the stage, Mohammed suggested we replace property laws and allow people to mark their territory like cats and described how much less inconvenienced we would be if we learned to poo while walking, just like horses. I think you get the gist!
The final speaker in the London Victorians Humorous Speech Contest was Jasmine who shared what I'm sure is a familiar journey of youth and optimism when starting your first proper job to the harsh realities of the modern workplace. Jasmine shared her secret to being effective at work – "pretend to work" – and gave some humorous examples of techniques she had witnessed including one colleague who used a picture of a spreadsheet as her desktop wallpaper. Genius.
The second half of this Toastmasters meeting was the Table Topic Contest. Negin took over as Contest Chair and posed the same question to each contestant as they entered the room one at a time:
"If you could live in any time in history when would it be and why?"
Answers ranged from going back to Babylon, giving way to discussion about the everlasting rules to how we manage our money; the free love hippy movement of the sixties; the present day, after all, with the technology revolution, what could be a more exciting time to live?
A couple of speakers took us into the future, with one suggesting our minds could be downloaded allowing us to live forever. While, more pessimistically, Paul wondered if we would have reinvented new ways to have conflicts – or a better dating app than Tinder!
Vahagn was more modest in his time travelling ambitions, wanting to return to when he was just eight years old and learning to swim, but he suggested doing it in water this time might be more effective!
All together, both contests were a great success. We know, at Toastmasters it's all about learning through practice so it really is the taking part that counts. However, with both first and second place going through to the next round, we all waited for the results with some impromptu but less competitive table topics.
Thomas and Paul took first place in Humorous Speech and Table Tables respectively, while Charlotte and Alex took, presumably, a close second.