We're back!
London Victorians are a vibrant weekly club just a stone's throw from Buckingham Palace. Throughout the pandemic they continued to meet every Tuesday at 18:30 online (even when Zoom fatigue started setting in), hosting guests from all around the globe, and even welcoming the one and only Toastmasters International President Peck for the final meeting […]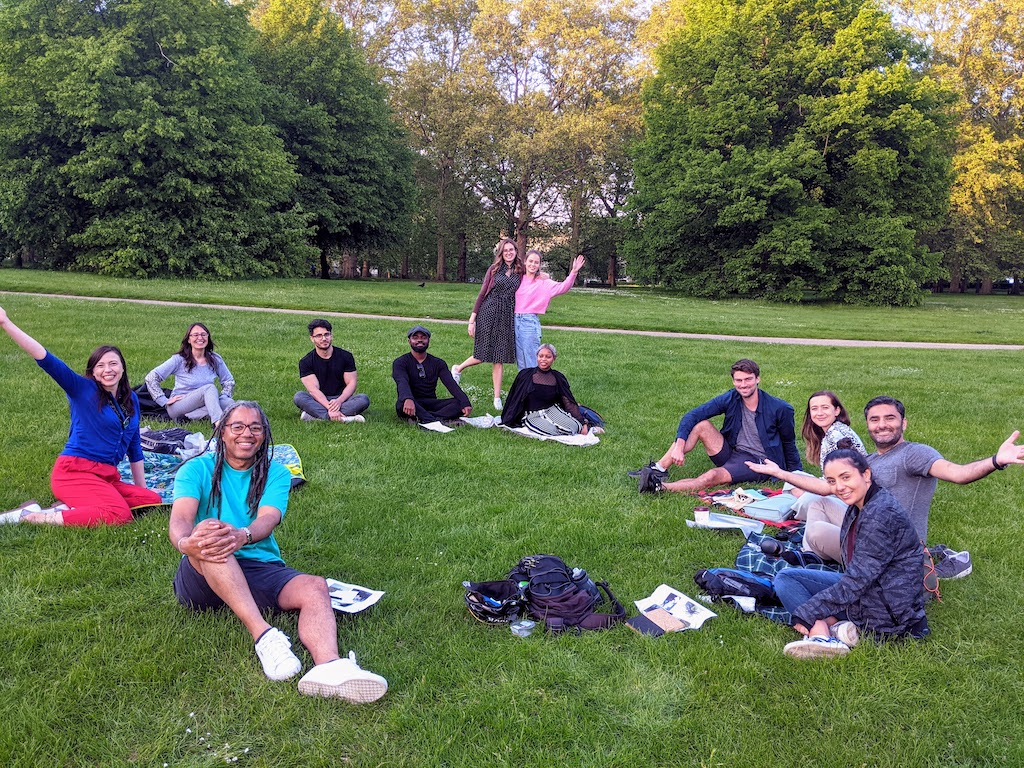 In-person meeting!
A few photos from our first in-person meeting of 2021, in Green Park on 1 June.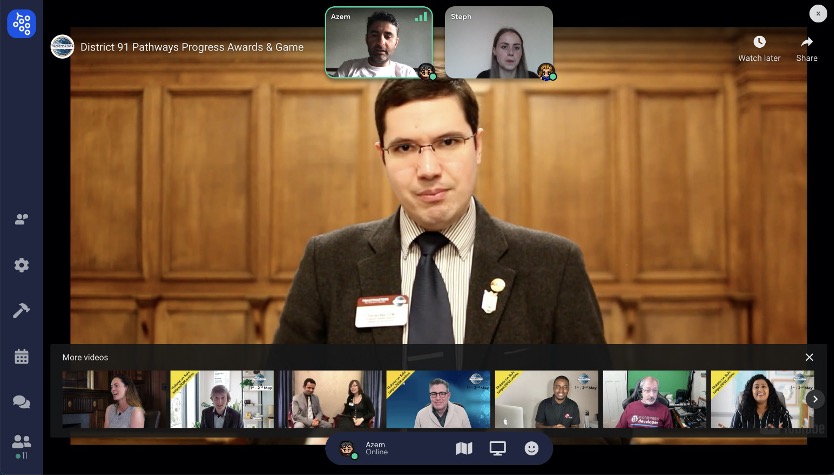 An extra-ordinary meeting
Meeting report by Azem. This week we took to Gather.town – an online meeting app (think The Sims!)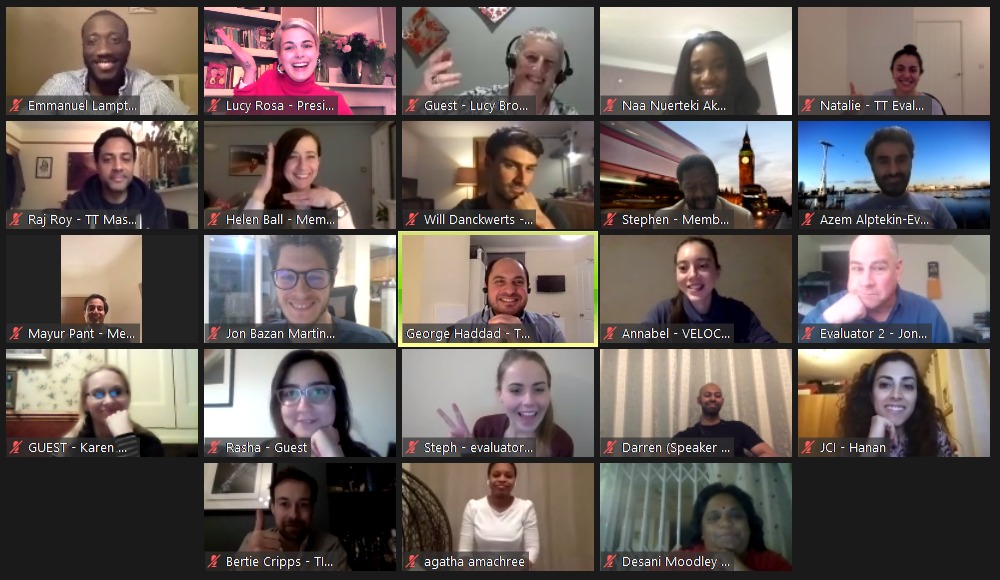 Welcome to 2021
Thank you to everyone who joined us on Tuesday for our first meeting of the year. We had guests and members from the US, India, Bermuda, Istanbul, and, of course, all over London.
Christmas and beyond
Following the ongoing government guidelines restricting groups to a maximum of 6 people, plus a national lockdown until 4th December, we've decided to keep all meetings ONLINE until March 2021. Here is our schedule for December to March: 15th Dec: Christmas Special 22nd Dec: Drinks and Table Topics 29th Dec: No meeting 5th Jan: Welcome […]
Dragons Den Meeting!
The UK Toastmasters club, Hamwic Speakers, is proud to present it's first ever inter-club "Dragons Den" competition at 7pm on 01 December. Three vibrant UK clubs will compete for the investment of £100K from three evil Dragons! The competitors are "LONDON VICTORIANS", "BERKHAMSTED SPEAKERS", and of course "HAMWIC SPEAKERS".The Dragons have been supplied by Fras […]
Upcoming virtual meetings at London Victorians this November
With a second national UK lockdown on the horizon, London Victorians continues to offer opportunities for both members and guests to practice public speaking and stay connected during these challenging times. We're continuing to run fun and supportive meetings every single Tuesday evening throughout lockdown for our now global community. Alongside practicing speaking and receiving […]
From London Victorians Toastmasters club to the global stage
Camila Toro joined London Victorians Toastmasters club with the aim of strengthening her public speaking skills in a supportive and ambitious environment. Just under a year later, not only has she achieved her goal, but she has also landed herself a public speaking slot at IsolaTED Talks, a new initiative inspired by Ted Talks. We're […]
Upcoming Meetings
Following the recent government guidelines restricting groups to a maximum of 6 people, we've decided to take all meetings ONLINE until 2021. Here is our schedule for October to November: 6th Oct: Online Speedy Meeting 13th Oct: Online Speedy Meeting 20th Oct: Online Speedy Meeting 27th Oct: Online Grammarian Contest 3rd Nov: Online Halloween Meeting […]
Hone your persuasive speaking skills and share your views at our open discussion
Having spent several months conquering the virtual stage during this turbulent time, we want you – our members – to actively shape how our meetings work in the future and to explore what a return to in-person meetings might look like. And in true Toastmasters style, we're going to hone our public speaking skills along […]
From London to Bermuda to Lesotho
Today's virtual meeting was opened by our club president Lucy, remembering the days of vis-à-vis meetings. We welcomed 4 new members! 3 new toastmasters and 1 returning Victorian. After welcoming new members, Lucy introduced the Toastmaster of the evening, Florian, who has just returned from a spell as District 91 director this past year. Our […]
Four ladies fighting to lead
Meeting 2020-06-16 By Mohammed Salih Paulina is still our president and there are no coups so far, it looks like she is going for a home run after a year. One thing she drew our attention to, and that the post of Club President has be occupied by four females in a row! What? How […]
102 Meetings over 35 countries!
By Mohammed Salih Lucy got hold of the mike to announce "I am not your president yet, but I will be". We were reminded why Toastmasters get together, well "to become better communicators", this actually for many it means different things. If it scares you to speak public and scares the hell out of us, […]
A Toastmaster's Tale
by Chris It was a balmy, late spring evening which meant absolutely nothing as we were all indoors sitting in front of our computers ready for the toastmasters meeting to begin of the greatest toastmasters club in the universe to begin. The evening opened with our esteemed outgoing president telling us about the gifted storytelling […]
New Committee is Born 2020-2021
Written by Mohammed, 26th June Paulina, our president told us how taking up her role offered challenges and amazing opportunities for her. This included moving the club from venue to venue and then to online. Leading meant building resilience for Paulina, this is what Toastmaster does to people. Christ jumped on the horse of toastmasters […]
The Art of Toasting
Written by Stephanie Tonight we were reminded why we joined Toastmasters.For some, to eliminate the butterflies and others to speak like broadcastersAll in all, we want to improve ourselves in an area we can growAnd one day be treasured liked a painting by van Gogh We heard some savvy sales pitching tips from SusanneWhich we […]