For the meeting Terry took the role of Toast Master with his theme of Childhood Memories. For every functionary the question is asked. "What is your best memory of your childhood that will live with you forever, and what triggers you remembering it."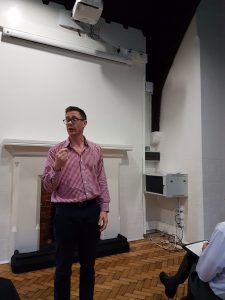 So the first functionary up is Joe as the role of Timekeeper with his childhood memory of surfing in Cornwall that and is reminded of this every time he smell the ocean. He came up and explains of his role and also reminds us never to rush for a Victorian Line train.
Next functionary is Alex in what ends up being the start of many roles. His memory is of playing in the mud near the woods which he remembers every time he is near the mud. Alex explains the role and decided to put a different spin and introduce and anti word. With this anti word he encourages speakers not to use a word. He chooses the word Just as he has seen it over used in several emails even in other speeches with people saying you're just …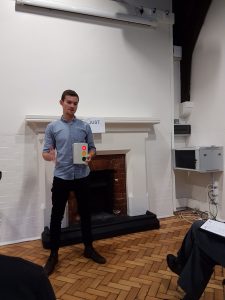 Then it's the Harkmaster's time Alexandra to explain her role. Her memory was playing Handlall at school and she remembers that every time she passes Pimlico Academy. She explains that listening is the ability to accurately recall and interpret messages.
The final role to be explained was Andrew for the meeting reporter role when he recounts his memory of going to Australia and he remembers that every time it's very warm.
The speeches
So first up for speaking is Mathew doing his ice breaker speak with a brilliantly titled speech, "The here and now". He talks about how his analytical and rational side is useful in his job as a civil servant, but can affect him outside of work too. He loves planning holidays but admits that he can get carried away with it, at the risk of not enjoying the here and now. His ambition is to have better correlation with the here and now and be more mindful.
Second up is Andy, and his childhood memory of playing around on boats that is triggered every time he is on boats. Andy speech is from the "Organise your speech" speech titled "Are you a phone addict". He explains the dangers of the phone and becoming of spombuies (Smart Phone Zombies). He also explain how phones can control you and how we should try and all go and go on a phone detox.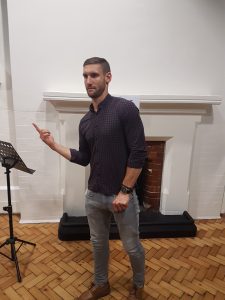 Third up is Diane who was speaking on her birthday. Her memory was of falling of her horse into horse poo and finding the funny side. Her speech titled "Successful companies do it too" from the "Research your topic" with her talk explaining how some companies have employee trust as part of their philosophy. This trust has serious benefits and companies with trust at their heart can outperform similar companies. She also explains trust from her own personal experience and how it benefited her in her own company.
Last prepared speech is Alexandro with his memory of walking barefoot on a beach in Spain that is triggered every time he goes back home. His speech Research your topic speech is titled "The magic of quantum mechanics. He explains that if you can explain the subject like you are explaining to a child then you know it well. So he starts to explain the subject by going through 3 principles and even gets two willing volunteers to spin to demonstrate electrons.
Speech evaluations
It is then time for evaluations with commendations that the speaker had a good use of self deprecating humour, good use of space, lack of notes, good vocal variety and good use of sources. The recommendation for the speakers reminds us that we need good eye contact and to have a good summary at the of the speeches.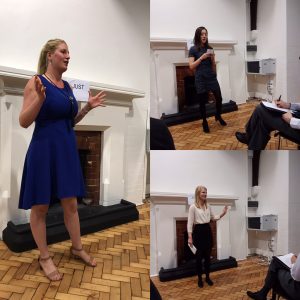 Then is the Sergeant at arms Yumi who tells us about her childhood memory of summers in Japan, that she is reminded every time she goes home. Her questions to the guests are what your favourite food is when you grown up and the answers range from Kebabs, French Fries, Ice cream, Lasagne, Pizza & Curry.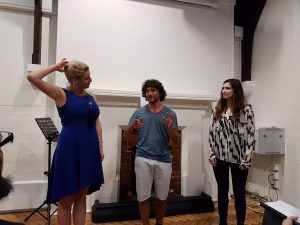 After a quick break it's the turn of table topics with Cladia taking the helm. Her childhood memory is climbing around in trees. So she starts the session with theme "Memories of a child with the adult ability to argue". These situations range from Sneaking Out of the house, convincing parents of a new toy drone, convincing Santa exists, leaving housework till later. Then some excellent role play occurred from Nuala as she tried to convince her teacher also played by her that she was ill. Finally it was Alex 2nd appearance as he tried to convince us that broccoli was evil. It was finished off with a swift evaluation from Florian with his childhood memory or his grandmother's pasta dish … Which is slow cook beef.
The evening then follows with functionaries reports and harkmasters questions before the awards. The awards where , Best table topics being awarded to the Nuela, Alex for the best evaluator and the Best speaker being awarded to Andrew.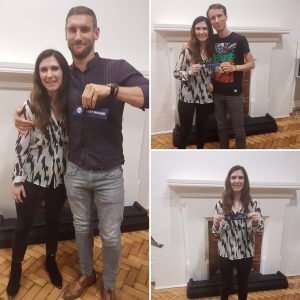 Well done to our members Eleanor and Matthew for collecting their Competent Leadership & Icebreaker Ribbons at this meeting!!!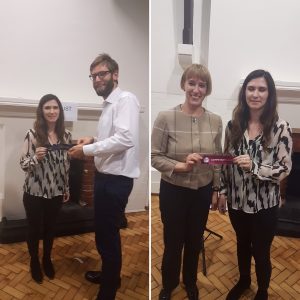 Want to improve your public speaking skills in London? Come along to any of our meetings and take a look what it's all about!