Our last week Toastmasters meeting was a great opportunity to learn a lot from, and about each other.
The former President of London Victorians club – Terry – has shared his thoughts on his experience in the past two years since he founded the club with Florian and Fahad in 2015. Terry, gained a lot of invaluable skills and experience and also really enjoyed the journey, especially by seeing how the others have developed as speakers and the growth of the club.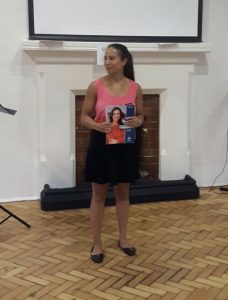 A Toastmaster of the meeting – Pascale, is a great example of how the activity of the club inspire great progress. Within six months from joining the club she not only can lead meetings with confidence but she's also taking care of the new members as a VP of membership.
We can already see the results with our recent joiners – Alexandra and Claudia, who demonstrate great motivation and commitment from the very start.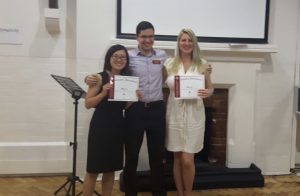 Alexandra, as a Sargent at Arms has warmly welcomed all guests but only until two weeks ago she was a guest herself. Claudia, instead has delivered her Ice Breaker speech only a week after joining the club. She has shared an inspirational story on her path to confidence.
The meeting was studded with more learning and inspiration.
Fahad, encouraged by the success of London Victorians has tried to set up another club in West London. Although the idea did not took off yet at the first attempt he had some valuable leadership lessons to share. He emphasized the necessity of commitment, time and effort as key ingredients of any project, and the importance of face to face interaction.
Then, Alex and Eleanor enchanted us with great story telling.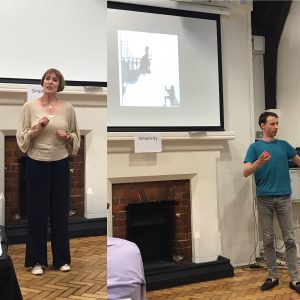 Alex, has proved he's comfortable with visual aids by using beautiful slides with no text but the title of the poem he recited "Highwayman" by Alfred Nayes. This powerful technique was further enhanced by vivid language, expressive body language and great vocal variety. No surprise he won The Best Speaker ribbon.
Eleanor, with Grimm's fairy tale – Twelve Brothers – has transported us back to our childhood. In the feedback on her speech– Vahagn – summarized this as follows: "The content of the speech is a king, but the delivery is a queen, and she runs a household. "
Another useful advice was shared by Matthew – our Grammarian. The word of the day 'simplicity", reminds us about the top quality of a competent communicator – being easily understood.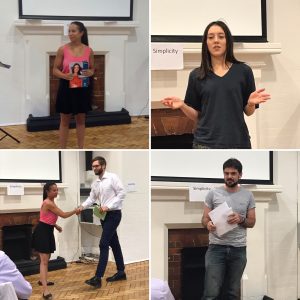 The feedback extracted from our seasoned evaluators – Terry and Florian – is the power of vulnerability and opening up. It helps to build trust, connection and increase empathy of the audience. This is also discussed in Brene Brown's  Ted talk, which I highly recommend to watch:
https://www.ted.com/talks/brene_brown_on_vulnerability/transcript?language=en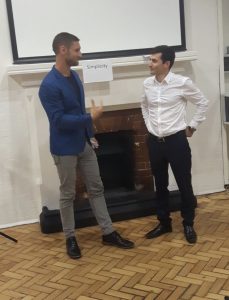 The second part of the meeting continued with high energy level. Andy – Table topics master – has asked seven randomly picked speakers to answer his creative questions. Big congratulations to our guests who bravely rose to a challenge! The winner – Paul – entertained us with a hilarious Aussie adventure in the desert which gave him a proud nickname MadMax.
Traditionally, the meeting has ended with a Harkmaster's quiz held by Anabel. She not only has a good ear after years of musical education but also great listening skills. She tested us on this skill and rewarded correct answers with some Scottish sweets.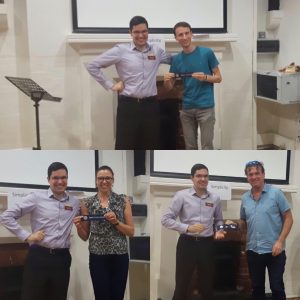 We're already looking forward to our next session. Next week meeting has a theatrical theme – we welcome all members to conquer the stage and become a star of the meeting. Costumes are not required, please just bring a smile and positive energy
This report was written as part of our new club role of 'Meeting Reporter' the the fantastic Paulina! Not only do we learn to present in front of an audience, now at London Victorians we are learning to present to the world, via the Internet! (and look how much she enjoyed it :))