Today's toastmasters action-packed meeting was a London Victorians first – a meeting entirely devoted to table topics! Table topics are about developing a sharp mind and are useful for job interviews, meetings or even in day to day conversation. They are also a great way to practice speech techniques like body language or vocal variety on a weekly basis.
Terry began the meeting with an educational speech with some fantastic impromptu speaking tips. He highlighted how thinking about speech structure (introduction, main body, conclusion) before your table topic was a good way to prepare – unfortunately this went out the window for many of us when the nerves kicked in!
The meeting was then divided into three sessions, each with a different table topics master, evaluator and timekeeper.
Narrating Stories
Prateek was the table topics master of the first session and presented a very original theme. He asked members to narrate a continuous story, while trying to incorporate selected words. Prateek provided the first sentence, then members followed on from each other.
The resulting story was filled with excitement and suspense, not to mention Toastmasters domination, tornados and time machines. Overall it was an exceptionally humorous table topics session. Alexandro was timekeeper and Diane managed the difficult task of evaluating over 10 speeches with ease, providing some thoughtful feedback.
Stories in Three Words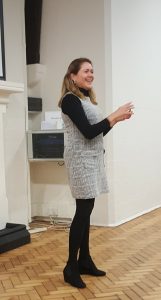 Cleo led the next session and she asked members to incorporate three words chosen at random into a story.
The audience was captivated by Millar's holiday in Cape Cod, Alexandro's speed dating train business venture and Karen's dislike of buses. We even were treated to a live singing performance by Charlotte. Gabriele injected humour into his evaluation and Pascale was timekeeper.
Smelly Memories
Miller was the table topics master for the final session, with a brilliant theme that involved using our sense of smell. Miller asked members and guests to identify a smell from one of her mystery bottles and then describe the memory the smell transported them to.
There were some great stories and experiences involving lavender, lemon sherbet, and peppermint English to name a few. Charlotte was timekeeper and Nuala provided a clear and perceptive evaluation that gave each speaker something positive and something useful to take forward.
Congratulations to Judy, Charlotte and John, who were tonight's table topics winners and to all who helped make this an extremely entertaining event. We look forward to seeing you on 21 March for our next meeting!