Ever since its inception, London Victorians' ambition has been to be recognised as the leading Toastmasters club in London. We first and foremost recognises that the club is nothing without its members. With this is mind the club will always strive to put the interests of its members first, to keep them informed of club developments and to consult them before making significant decisions.
Club Values & Ambition
London Victorians core values are:
EXCELLENCE – We always strive to be the best in whatever we do and for all of our members to become excellent public speakers and leaders.
OPENNESS – Our door will always be open to guests, new members and new ideas. For we recognise that the best Toastmasters members were once a guest at a meeting.
PROFESSIONALISM – Because we are a service organisation dedicated to serving its members. This demands efficiency and responsibility.
EMPOWERMENT – Each and every one of our members will be given the tools and guidance to make the most of his/her Toastmaster journey. You are in control!
LEADERSHIP BY EXAMPLE – Because fundamentally the only true leadership is leadership where words are turned in actions and visions into realisations!
CLUB HISTORY
London Victorians Toastmasters was the brainchild of founding President Florian Bay joined by Terry Pullin and Fahad Alturkait. Together on August 19th 2014 on an oak table of the Windsor Castle pub, they fleshed an idea into a plan. The first club meeting followed four weeks later on September 16th.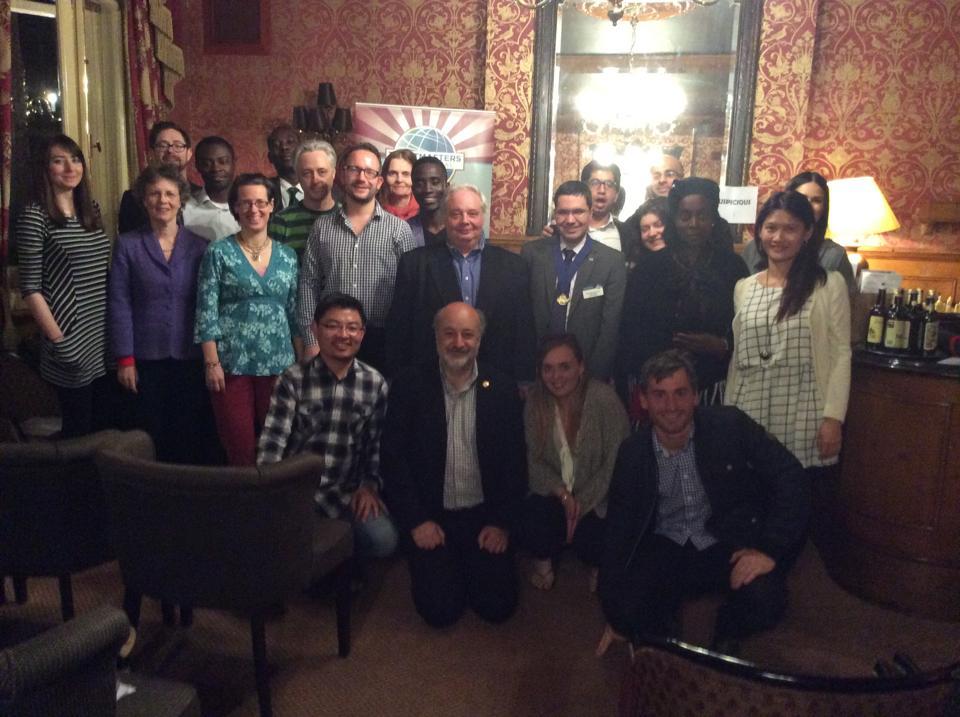 London Victorians remains eternally grateful for the help provided by other members of the Toastmasters community in filling our initial meetings. At short notice, members from other clubs filled in roles ranging from evaluator to toastmaster and to doing guest speeches in our club. All of this and the drive, determination and fortitude of the founding committee. Led Victorians to attain chartership from Toastmasters International on April 13th 2015 a few months after our first meetings.
Three months later London Victorians obtained Distinguished status from Toastmaster International for the 2014/15 Year, a mere ten weeks after chartering! Thus establishing its growing reputation as one's of London's best clubs!
CLUB PRESIDENTS
2014/15 – Florian Bay, DTM
2015/16 – Florian Bay, DTM
2016/17 – Terry Pullin, CC, CL
CLUB DISTINCTIONS FROM TOASTMASTERS INTERNATIONAL
2014/15 – Distinguished 5/10
2015/16 – President's Distinguished 10/10 – Smedley Award – Beat the Clock! Award – Founders Award
---
History of Toastmasters
Toastmasters was founded in1924 on October 22nd in Santa Ana, California by Dr Ralph C Smedley in the basement of the local YMCA. The group called itself "Toastmasters" and its aim was "to afford practice and training" in the art of public speaking and in presiding over meetings and to promote sociability and good fellowship among its members. This group eventually became Club No. 1 of Toastmasters International and it still meets today.
Word quickly spread out in the local area and soon other clubs started in nearby Anaheim and Los Angeles. By 1930 nearly 30 clubs had formed including the first international club in British Columbia, Canada. At the same time Dr Smedley wrote the first manual the Manual of Instructions and Ten Lessons in Public Speaking. The ancestors of today's Competent Communication and Competent Leadership manuals.
The organisation has carried on its growth since the 1930s with the first London club opening its door in 1981 and there are now over 70 clubs in London alone. Currently, Europe, Asia and Africa are Toastmasters main growth areas worldwide. Membership reached 200 000 in 2004 but has since surpassed that number to exceed 300 000 in 2014 and is expected to increase further to 350 000 in the coming years.
Currently, the organisation is embarking on a very ambitious project to completely revamp its educational programme to meet the requirements of the 21st century. Most notably in terms of e-learning and tailored learning experiences. This new Revitalized Educational Programme is expected to be fully rolled-out around 2018.
---
Educational Programme
The Toastmasters Educational Programme is made up of two parallel tracks, a communication track and a leadership track. You're strongly advised to actively take part in both tracks as they're not mutually exclusive and can be worked on concurrently.
Communication Track
This track begins with the Competent Communication manual covering ten speech projects from "The Ice Breaker" where you'll introduce yourself to the club to "Inspire Your Audience" where you'll inspire others about something which you care deeply about. Along the way you'll learn the basic building bricks of public speaking, from speech structure in project 2 "Organise Your Speech", "Vocal Variety" in project 6 or "Effective Use of Visual Ads" in project 8. Read your manual thoroughly as it contains a lot of usable information and practical advice that you can always refer back to. When in doubt go" back to the basics" as the saying says!
Once you've finished your Competent Communication manual you can choose from 15 advanced manual to work on, each made up of 5 speech projects. These manuals build-up on the skills you've learnt before and provide an opportunity for you to specialise in certain areas. The advanced manuals include:
Storytelling
The Entertaining Speaker
Humorously Speaking
Special Occasion Speeches
Speaking to Inform
Technical Presentations
Professional Speaking
Interpretive Reading
Speeches by Management
Leadership track
The Competent Leadership manual opens this track and is made up of ten projects covering leadership skills such as "Critical Thinking", "Time Management", "Giving Feedback" or "Listening Skills". Projects are completed by doing meeting roles such as timekeeper, speech evaluator or toastmaster of the meeting. When completing the roles hand over your manual to someone else to receive a written evaluation and feedback. You'll additionally receive feedback on your performance from the meeting's general evaluator.
Subsequent projects in this track include serving on the club's committee for a minimum of six months. Delivering speeches from the Successful Club Series or Leadership Excellence Series. Covering respectively, aspects of successful club management and key leadership skills and attributes. Or even serving as a District leader coordinating the activities of several Toastmasters clubs.
The leadership track can be more rewarding that the communication track. Do NOT neglect it!