This post will take you roughly 3:30 minutes to read, it'll be the best 3.30 minutes of your day.
This week's meeting was like no other. It was our brand spanking new President's inaugural meeting, which was an honour to be part of. You could feel the excitement in the room as it fell silent, for Paulina stepped up to speak her first Presidential words – back to Paulina in a moment.
As with every Toastmaster meeting, the evenings would not run as efficiently and orderly as they do without the boss of the night, the Toastmaster, which on this warm summer's evening was Andy. Andy's aptly chosen theme for the meeting was holidays, and the importance of taking time out to rest and recover from the daily grind. I can vouch for that, having suffered the unfortunate effects of burnout last year, so I am a huge advocate for down time, the more the merrier! In his introduction to the evening, Andy also touched on the unusual set up of the room for this particular meeting, which had an uncanny resemblance of a speed dating venue – perhaps Paulina has some exciting plans for London Victorian's this year?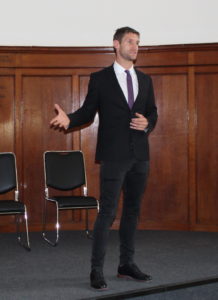 Before kicking off the speeches, Andy introduced his ensemble for the proceedings. First up was Timekeeper Michaela, who vowed to keep all speakers on their toes with her traffic light timing system. Up next was Harkmaster Agatha, who teased the audience with her chocolate rewards in return for our attention. And last but not least, perhaps one of the most overlooked but highly important roles, the Meeting Reporter. I must admit, it was a role I wasn't so keen on filling myself, mainly due to my inept listening skills and embarrassingly short attention span. However, having actually experienced how useful I found writing down notes on every aspect of the evening and paying much closer attention than I usually do, it was a joy to fill the role, which apart from a great self-development tool, also adds tremendous value to the club's marketing efforts. So, if you are reading this and you haven't participated in this role yet, what are you waiting for?!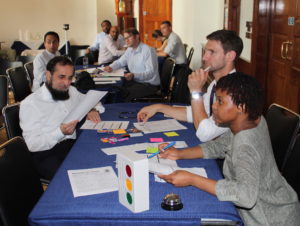 Anyway, without further ado. We move onto the highly anticipated speeches.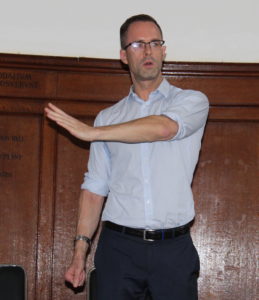 First up is David. In his cool, calm, collected Geordie manner David took to the stage and sat in a crossed legged, meditative pose and begun 'ommming'. This immediately got the audience's attention, with a few people towards the back standing up to see what was going on. He then rose to his feet and begun his speech on the theme of mindful meditation. He sold all of us on the power of meditation and how it helps to calm the mind and makes us more present and focused. There was certainly a calmer mood in the room as he finished and handed back over to Andy to introduce our next speaker, Mo.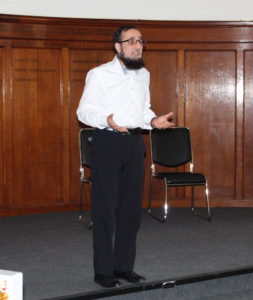 Mo delivered an enthusiastic and lively speech appropriately titled Speak Up, and shared 3 key takeaways how speaking up can help us in our daily lives:
It projects our value

It allows us to build great teams

And finally, it builds exceptional value
The third point was emphasised by how much value attending Toastmasters adds to each and everyone of us, and how London Victorian's is hands down the best place for this. Bravo Mo!
Our final speech of the night was delivered by our freshly appointed President, Paulina. Titled Truth or Dare, this was unlike any other speech I've witnessed at Toastmasters, as firstly it was almost 20 minutes more than the average speech, and we shortly found out why these timings were required, as this speech had been designed to discover the truth about what members and guests thought of the club's current organisation and running. In summary, London Victorians is smashing it out of the park, however, just like all great organisations, there is room for improvement in some areas, and it was inspiring and motivating to discuss these and formulate plans on how we will improve and make the club even greater. Viva London Victorians!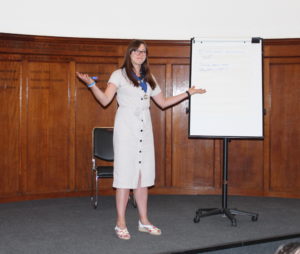 With the speeches over, the eagerly anticipated critiques of the night were lining up to give their feedback. In quick succession, Florian gave rapturous praise and lapped up David's meditation speech, Chris gave a special nod to Mo's calculation of what it costs to attend London Victorian's every week; for the record, it works out at £4.60 per week, which is potentially the best value for money I have personally come across. Stephanie finished off with a spritely and energetic evaluation praising Paulina's team building speech!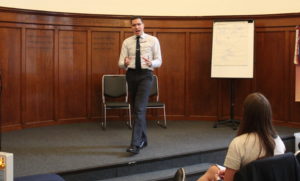 After a short break, we were straight back to it, and with my favourite part of the evening, Table Topics. For any guests reading this, Table Topics is the best way to push yourself well outside of your comfort zone, and a sure way to overcome any fears and anxieties you have with speaking in public. Our Table Topic master was Filip, who as a fairly new guest, confidently delivered an analogy of a job interview he had, where he got so nervous, he had to run out of the interview. I can safely say, that the Filip we had up there this time is a changed man – good work! His theme for the evening followed on from Andy's holiday theme, but in true Table Topic fashion, these were not your average holiday destinations or activities. In fact, they were truly bizarre! First up was Jackie who went to China to eat worms, followed by Joe went to the moon, I went to Australia to fight kangaroos, Seb went to Alaska to ride polar bears and Joseph decided to not take a holiday this year and stay at John Lewis, as he loves it so much. Respect.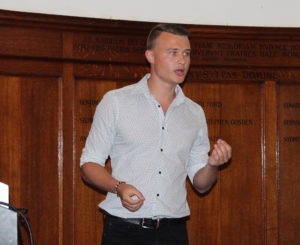 After Agatha and Andy had showered the room with chocolate goodies, the evening was rounded off with an energetic general evaluation from Lloyd, who displayed a lot of dynamic body movement and animated facial expressions, capturing the audience's attention, as he whittled through his concrete feedback.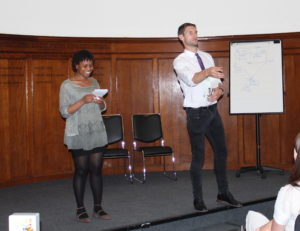 Bringing the evening to an end, our President Paulina took to the stage once again, to deliver the evening's awards. Drum roll please…

Best Table topic: Harry (me ☺)
Best Evaluator: Florian
Best Speaker: David
This was yet another inspiring, confidence boosting and all-round feel-good meeting.  Well done and thank you everyone!