* PPE (personal protective equipment) reference hunt, written by Agatha
Hello there! The London Victorians Toastmasters community has not been so exciting as in recent times. The opportunity which the current pandemic presents in terms of personal development is evident and utilised in our online toastmasters meetings. Some of those opportunities include; Organising and chairing online meeting, Use of online tools to facilitate meetings e.g. poll taking, Communication skills. We were delighted to have a first time guest and other returning guests.
Our meeting on Tuesday was just after the Easter celebrations, many of us might have had a different experience from previous Easters. For our Toastmaster Anabel, her egg hunt did not go quite as planned, and so, in this week's meeting report, there are PPE related references for our readers to participate in a hunt, also as a tribute to our frontline healthcare workers.
The meeting was packed with as much energy as usual.
Florian, our first speaker shared the story of the Siberian conquest with us. His online delivery was very engaging, Florian even employed the use of a fur hat prop appropriately donned and doffed to avoid distraction from his message.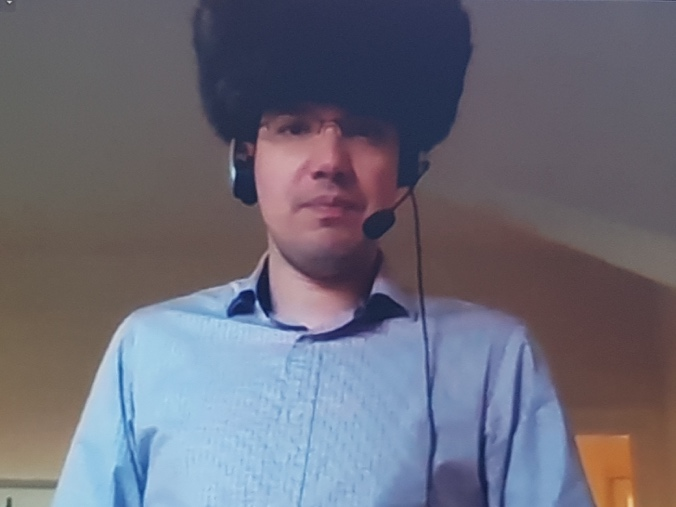 David was our second speaker, with speech titled 'An Unwelcomed guest' the audience was already anticipating what the speech was about. But David did not divulge this quickly, with a careful, slow, unravelling style he finally unmasked the unwelcomed guest – The Evening News! David also advised us to socially distant ourselves from the news.
Evaluators' tips come in useful as ever not only to speakers but for all in attendance. The evaluators reminded us for what is important in online speech delivery; audience awareness, eye contact and having a clear structure.
We had good table topics participation with 11 speakers. All topics involved speakers exercising their abilities in impromptu speech with questions relating to emotions during this pandemic. Facilitated by our Topics master Lucy.
If you feel like you do not know what to do during this pandemic, here are few words from the Queen's speech on the 5th of April,
"… I hope in the years to come everyone will be able to take pride in how they responded to this challenge… The pride in who we are is not a part of our past, it defines our present and our future"
According to the Queen's speech, whatever we are doing, working from home in our dressing gowns or the doctors and nurses in their visors and coveralls, or researchers and scientists in their gloves, this is going to be a part of our proud history.
Similarly, at London Victorians we are adopting the same philosophy, strengthening our community and supporting each other's public speaking goals is what we do now, what we've always done and what we'll be doing in the future.
There are six PPE references 😉
JOIN US EVERY WEEK FROM 18:30 ONLINE: Zoom meeting Link:  https://zoom.us/j/580017929)