Report by: Kam Johal
We had another dynamic meeting on Tuesday, filled with loads of great speeches and valuable feedback.
To begin, we had our Toastmasters for the evening, Arsen Shnashev, who introduced the theme for the evening: New Year Resolutions. Highly topical given that we are seven weeks away from the New Year 2019.
The Toastmaster then moved the meeting along by introducing the functionaries, who helped keep the meeting on track. Rebecca Jarvis, was our timekeeper, whose role was to ensure that the meeting ran on time which it did. Then our grammarian, Joseph Omeiza, who recorded all the wonderful uses of language throughout the evening, as well as keeping track of "umms" and "uhhs" and the word of the day 'ARTICULATE' which was used at least 13 times. Lastly we heard from our harkmaster, Batool Aljufairi, tested our listening skills and spoiling us with many treats until they all ran out at the end of the meeting.
First up we had Mark Brown present Dynamic Leadership – 1 Icebreaker entitled "How I learned to learn". Where he showed how his many useful techniques including spaced repetition in learning.
Next, we had Boyko Tzankov presenting "Emotional Intelligence", which is for perspective Strategic Relationships – 4 Researching and Presenting. For this speech, Boyko demonstrated an understanding in this topic, between our different brains and building good skills in perspective, understanding and reasonable behavior. All in all, helping us from self-sabotaging, road rage and preventing getting ourselves fired. All useful stuff!
Swiftly following that, Eduard Kim took the stage presenting his Competent Communication Manual -6 – Vocal Variety in a speech called "The future of Fitness". In this speech, we saw the future of a successful gym environment tailored at improving connectivity for members, accountability/motivation and gym performance. All in all, inspiring greater use of the gym.
To round off the speaker portion of the evening, we had Florian Bay, who presented an advanced level speech entitled "High Performance Leadership – 2 – Presenting the Results". During the speech, we were able to see how Florian has left a legacy for Toastmasters International. He also talked us through his speech in Chicago. We all toasted that!
After four inspiring speeches, we moved on to evaluations. First we heard from David Scott, who emphasized the importance of use of the "threes" in Toastmasters.
Next, Robert Nicholson took to the stage and gave constructive feedback regarding engaging the audience powerfully with situations they could relate with.
Then Pascale Monteil reminded the audience of the importance of vocal variety and how it had been applied with the speech.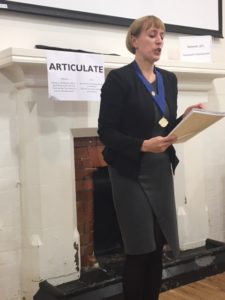 Lastly, Eleanor Hanslip came on stage to discuss the speech of Florian Bay. She pointed out some great things about the speech and the legacy that Florian left behind together with achievements. Eleanor wanted to understand the details how the great results were achieved together with the strategies used to overcome obstacles.
Before our break, our Sergeant at Arms, Annabel Lamb, introduced the eleven guests for the evening. Guests are an important part of what makes meetings special, so please don't be shy to stop by!
After a break, we returned for a round of table topics! This week our Table Topics master was Susanne Alfs who asked lucky members of the club to take the stage and answer some questions, all based around the theme of New Year Resolutions. We heard about resolutions fluctuating from procrastination, an assessment of the virtues of having no resolutions, and then New Year resolutions which extended to world denomination.
We then invited our Table Topics Evaluator, Mohammed Salih, to give constructive feedback to all the participants. Some themes included taking pauses, position on stage, and engaging the audience through humour.
Which brought us to the end of our meeting. Congratulations to the winners this week!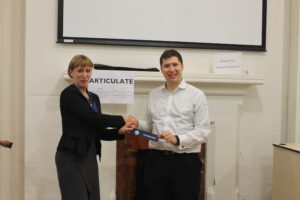 Winning The Best Speaker: MarkPlease feel free to join us! We meet every Tuesday at 6:30pm at St. James the Less Westminster, SW1V 2PS (nearest station Pimlico). Guests are more than welcome to stop by and ask any questions they may have.