Report by: Raj Roy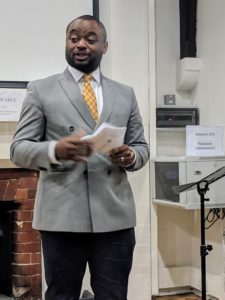 Good evening most valued guests, and welcome to our blog. You're perhaps wondering what happens at a Toastmaster's session – let me guide you through tonight's events.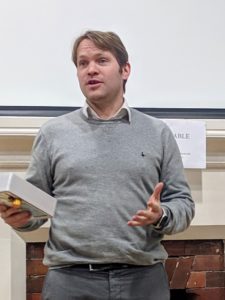 Our President, Eleanor, opened tonight's proceedings with a warm welcome to the club. She reminded us: "it's not all about me – it's about us!" You might improve your public speaking, but you also become part of the London Victorians team. You support others, who support you.
Eleanor introduced our sharply dressed Toastmaster for the evening, Joseph. His role – to quarterback tonight's session. And his theme for tonight, motivation. Many things motivate us – friends, family, mentors, work. What keeps you motivated, dear guests, in the pursuit of life's ambitions?
Alongside our Toastmaster, keeping the session ticking along, we had introductions from our Timekeeper, Chris; our Grammarian, Jack; our Harkmaster, Anna; and your humble meeting reporter. Jack encouraged us be precise & succinct, and to incorporate the word 'amicable' into our speeches for bonus points.
Prepared speeches & swiftly prepared evaluations
Four speeches awaited us this evening, with evaluators providing their commendations and recommendations. First up, Kam, relaxed in a chair, had decided to join a walk. "How hard could this be?" "54 miles. In the Scottish West Highlands. In 24 hours. Without a break." Kam leapt from her seat, pacing the stage, her body language mirroring her trials. Rebecca's evaluation: "Kam's excellent use of the stage, use of language and use of body language".
For our second speech, we joined Stephanie, "diving into a world of fantastic animals – the shark". The Jaws theme tune, hummed by Steph, soon echoed around the room. She left us with the thought: "if cows kill more people than sharks every year, then why are sharks considered to be the ultimate killing machine?" Michelle loved how "her hand gestures conveyed her points", and her intro to sharks: "tall, dark and handsome; a killer smile".
Priyendan, with a speech about forming habits, challenged the audience: "Psychologically, there is no difference between fear and excitement. In time, we could start to associate the fear of public speaking with excitement. Just keep telling yourself you're excited!" Robert commended Priyendan on a speech, "the audience can use and take away with them," along with his natural flow.
Our final prepared speech this evening was from Florian, about a Tinder date. We were captivated with storytelling part rom-com, part personal diary. "The date was on!" was bellowed across the chamber. Ariel valued how Florian's "language and tone changed… giving us a personal experience through storytelling."
Great things never come from comfort zones
Annabel, our Sergeant at Arms, welcomed our new guests: "I'd like to tell you a secret. I'm always inspired by the new guests and members of our club." Our guests told us why they were joining us tonight – do any of these resonate with you? "To try something new." "To try new things and push my comfort zone." "Self-improvement." "To escape my comfort zone." Annabel reminded us: "great things never come from comfort zones."
David introduced our table topics – impromptu speeches lasting 1-2 minutes. "We're all here to improve our public speaking. But in the real world, we don't always get the opportunity to prepare." We were kept amused by Edward, Benedict, Lukas, Agatha and Sam, speaking off the cuff, with only a few seconds to marshal their thoughts. Mark, our table topic evaluator, provided the invaluable advice: "repeat the question back to the audience… very… slowly." "And if you're trying to do a serious speech in 2 minutes – good luck!"
Try us out
"For my second date, I even took her to Toastmaster's." Perhaps an unconventional second date venue, but, dear guests, please do feel free to bring a friend, partner or date along if you wish. Just turn up, any Tuesday. How better to be wooed, than in an impromptu speech?