The club is managed by a committee made-up of volunteers, committee members do not receive a salary or any income for their roles. Being involved in the club's committee is a great way to develop leadership skills and organisational skills. Anyone can get involved! If you are interested in getting more involved, you can approach current members of the committee.
As London Victorians is a high growth Toastmaster club with weekly meetings, we have a slightly enlarged committee and a few extra responsibilities for the Toastmaster of the Meeting (TMOM) and the Sergeant at Arm of the Meeting (SAM) roles. This ensures that everything that is needed to be done to keep our club great can be done without anyone being overloaded with work.
Use the links to the right for detailed role descriptions. The structure of the committee is described below.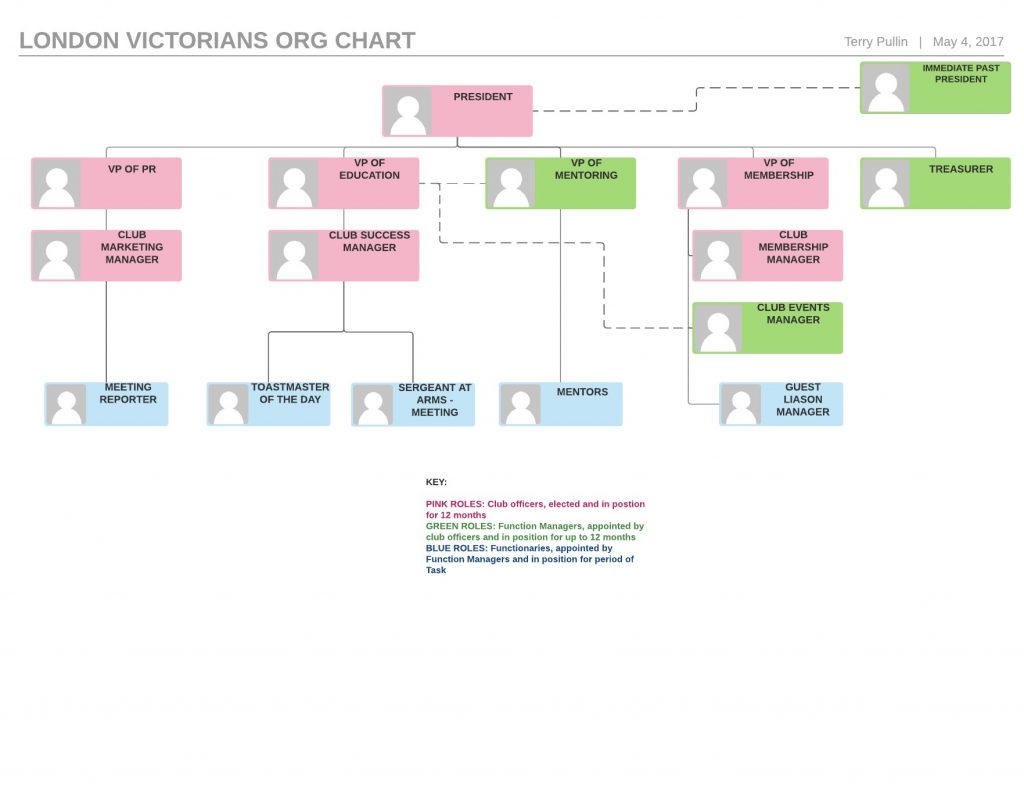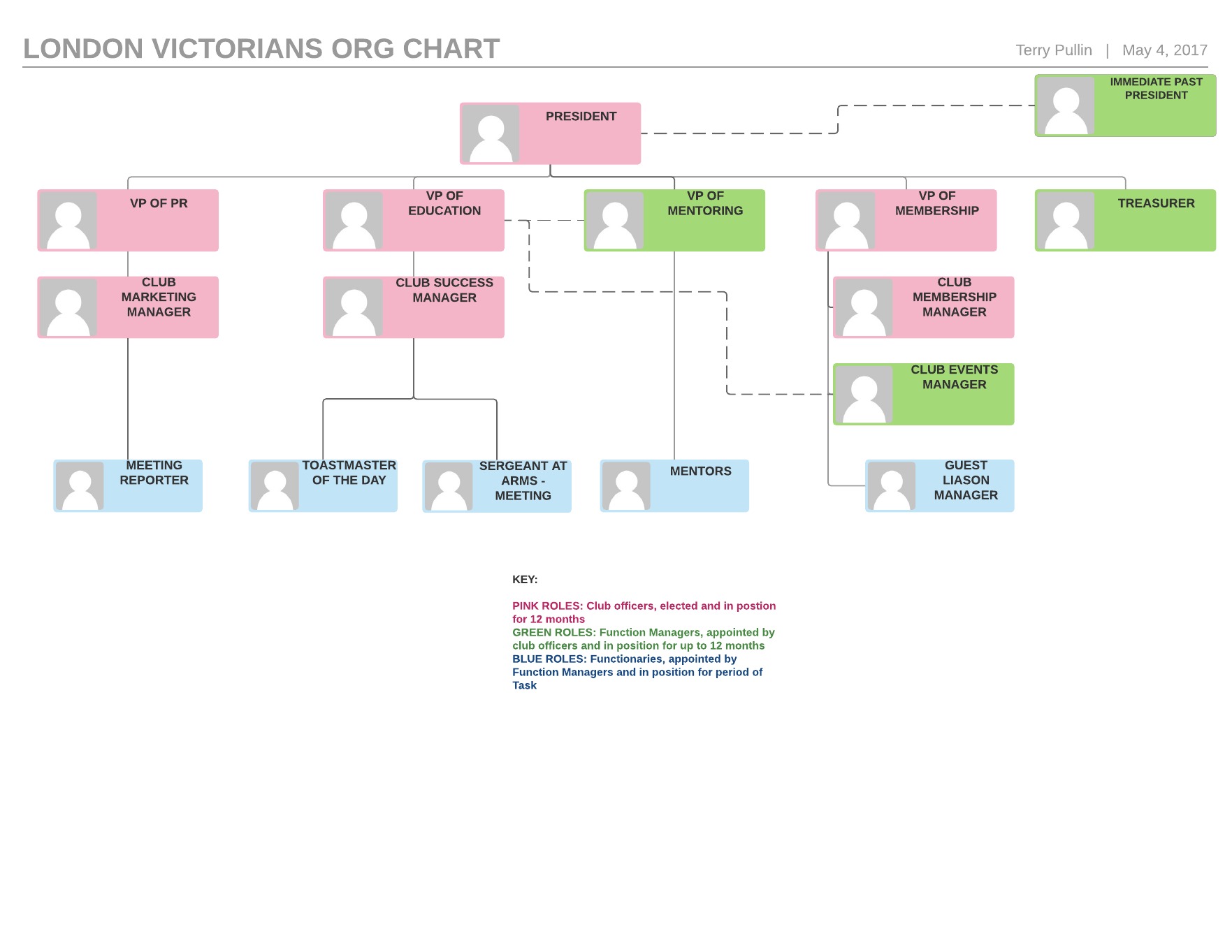 The committee is split in to 7 key areas. These areas focus on different aspects of running the club that help you and your fellow members progress their skills in public speaking and leaders.
Educational Team
The product our Toastmasters Club provides is our meetings, and the output is the progress of our members.
This year our 'Vice President of Education' (VPE) will be responsible for member progress. They will keep a close eye on the individual progress of members and manage the agenda of speaking slots to help everyone achieve efficiently, and fairly.
We will have a 'Club Success Manager' who will be responsible for the quality of the club meetings. They will work with the VPE to find members who need to take roles to help them progress and work with the TMOM & SAA to ensure the meetings are great.
Public Relations Team
Marketing communication are very important to the club. We need to be at least 50 members to break even. This area should also support the educational benefit of the club by producing good learning content for members.
Our 'VP of PR' is responsible for the strategy of both internal and external communications, our website and our social media presence.
The new 'Club Marketing Manager' will work with the VP of PR to create content, update the website and work on the social media. The new role of 'Meeting reporter' will assist by creating meeting reports that will be use on the website and newsletters.
Membership Team
Having new members join and retaining the members we have is essential to the survival and success of the club. We need 50 members to balance our budget and we need a good mix of members for everyone to learn from.
The 'VP of Membership' is responsible for new and existing members. This year they work with a 'Club Membership Manager' and between them they will be responsible for looking after guests, helping guests become members and being in close contact with existing members to make sure they are happy with their membership.
Getting new members in to the club is an absolute priority, so the membership team will be supported at every meeting by a 'Guest Liaison Manager' who will help to answer guest's questions and make them feel welcome.
Mentoring
Something essential to the educational progress of members is good mentoring. Also, being a mentor for new members is a great way of developing your own skills.
This year we will have a 'VP of Mentoring' who will assist members get mentors and assist mentors to get more from their experience.
The 'VP of Mentoring' will also work closely with the 'VP of Education' to help members identify their goals and get the speaking opportunities they need to achieve them.
Finance
Ensuring the club has the right money to pay for the venue, for the stationary used in meetings and to Toastmasters International is obviously critical.
Our members entrust us with their membership fee so they have a club to improve their skills and the 'Treasurer' is responsible for managing the money.
The 'Treasurer' also looks for ways of making more money, with special events and any other opportunities. Money is tight for the club so this is crucial to it's success.
Events
There are official events twice a year, the club contests, and there should be at least 4 social events each year. The 'Club Events Manager' will take charge of organising these events and making them a success.
Working with the 'VP of Education' for contests and the 'VP of Membership' for social events, the 'Club Events Manager' will help contribute to everyone's education and enjoyment in the club.
Leadership
The clubs 'President' is ultimately responsible for each of the areas of the club. They will provide support for all the VP's and Managers in the club when they need it.
The 'President' is the voice of the members, always looking for ways to improve the club so that the members get the maximum educational and social value from it.
It is also their responsibility to ensure that each meeting is started with a bang and ended with updates on things that are important to members.
The 'Immediate Past President' will help the current President wherever possible, to ensure that the club ethos and mission is always upheld in any future decisions.
You!
Everyone plays a role in making London Victorians great. While there are 11 people in the committee, there needs to be 50 members to make the club work, so everyone should take responsibility for helping to run and develop it.
You can either apply for one of these roles and give up a little bit of your time to manage an area. You can also speak to any of these appointed representatives at any time to give feedback and recommendations on what would make the club even better for you.
While some people are kind and keen to step forward and take these responsibilities, it's unfair of the rest of us to not understand that it's all our responsibility to contribute and make our club great.
If you can help in the committee this year, everyone would be very grateful and not only would you contribute to the club and your friends, you will learn some other great skills which will benefit your life outside of Toastmasters too.
Please contact the current president, Terry, if you are interested in taking part in the 2017-2018 committee at London Victorians Toastmasters Club.