Report by: Faith Wilkinson
What a massive turn up at this week's meeting. It wasn't your ordinary weekly meeting with our usual set structure; this time we were treated to a double bill of great content from Ola Aralepo, a past winner of the Humorous Speech Contest.
Kicking off promptly at 6.45pm, Yumi our toastmaster for the evening, set the atmosphere by welcoming all present, introducing her role and explaining what we were to expect for the rest of the evening. She then introduced Ola and the crowd went pleasantly wild with big applause for Ola!
Most of us had watched Ola on YouTube so it was nice to see him in person. He is just as cheeky and charismatic in person, as he is on video. He took a few minutes to give us a background of how he got involved in the contest and finally winning! It was basically after a gentle push from his mentor, encouraging him to join the contest at local level which he won, the win got him into the next round of competitions which also, after making the qualifying mark, got him into the final contest at district level which he championed! His advice at this point; try and get involved in any contest as you just never know where it could lead you.
Ola dived straight into his workshop. Introducing his technique called A.C.T.S of Humorous Speech; a 4 step process he has formulated to achieve his speech goals. I loved the fact that his opening subject was to do with adaptation to circumstances. As it turned out, we had a slight hiccup in technology which meant that we couldn't use the projector as earlier planned so we had to improvise. Fahad and Sid took turns to hold the laptop to show people the slides. You could see how effectively Ola adapted to this set back which was a great example to explain his subject on Attitude.
The workshop was divided into two parts, each for 45 minutes sections. During the first half, we took a few minutes to pair up for an exercise that involved listening to each other's short stories about a sad/bad/frustrating incident and then took turns to retell each other's story showing the funny side of it instead. It was interesting to see how stories evolved into humorous speeches.
The audience interacted greatly with both the activities and content. We then had a 10 minutes break in between where members and guests took some time to engage in conversation to get to know each other and build relationships.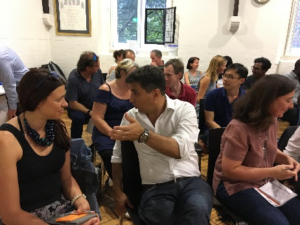 The highlight of the second part was a practical bit where Ola took us through a 15 second exercise to help overcome the fear of self-consciousness. We were tasked to do something crazy for 10 seconds and the feedback after this exercise was great as lots of people reported feeling energized and brave. We also took time to write a 5 minute speech incorporating some or all of the techniques that Ola shared. A few people had the opportunity to share their speeches with us; again, great transformation with people coming up with engaging speeches.
Tamara, our timekeeper for the evening played a big role given the nature of the meeting. She was quite flexible ensuring that we finished the meeting on time, maintaining the appropriate break time as well, and just enough time for the volunteers who shared their speeches.
Anna our Sergeant at Arms also did an amazing job introducing about 20 visitors in a short space of time. Adding humour to their introduction (keeping with the theme of the meeting) each of the guests shared what makes them laugh.


All in all, it was a great workshop. We had a great time learning and interacting with each other. It was an honour to meet Ola who left us with his wise words of humour " Get your ACT together! You don't have to be funny to write a humorous speech!"