It is a Tuesday night, what might transpire,
But a Toastmasters meeting at London Victorians tonight
The stage is set alright, the speaker in the spotlight
Members and guests alike, would contribute to make the highlights
A night of poetry, the theme of the evening set by our Toastmaster Lucy
We came to learn more about public speaking we left with that and more
From blue skies in Zambia to grey skies in London,
Our first speaker, Ismail delivered his icebreaker
How do you want to be remembered? Washington our second speaker is clear,
For his children to say "he was always there for us"
Yorkshire puddings aren't from Yorkshire! Our third speaker, Jackie
Gave us all the secrets to make a perfect Yorkshire pudding
Malice, paranoia and superstition were the threads to this tale
An interpretive reading from our fourth speaker, Eleanor from The Crucible by Arthur Miller
Speeches are delivered as part of workbook assignment from Toastmasters pathway program
Which help to build skills in communication and leadership.
But a meeting is not just made up of speakers as already highlight before we have a Toastmaster for the evening. And joining Lucy was a team to make sure the meeting was run in time (timekeeper), reported (meeting reporter), enagaging (harkmaster), welcome our guests (sergeant at arms) and grammatically superior (grammarian).
But that's not all, if you know about toastmasters, you know we thrive on feedback so we have evaluators to evaluate speakers and evaluate the meeting too (general evaluator).
The second part of the meeting consisted of impromptu speaking [Table topics] run by Kelvin topics master. Best table topics winner was a first time guest.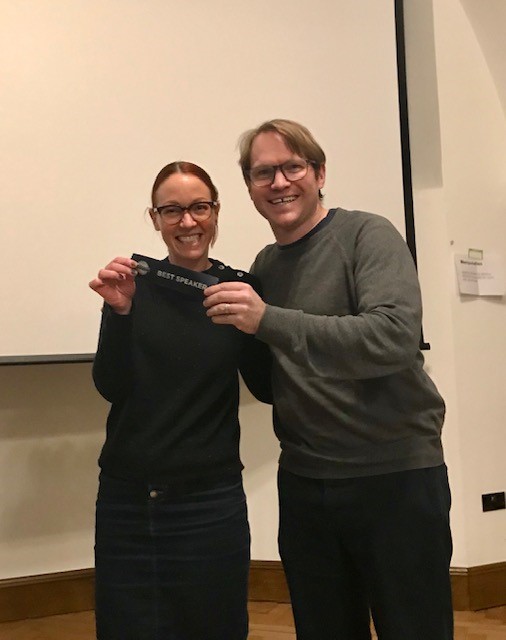 Do join us in our next meeting on Tuesday 10th March 2020 at 6.30 pm https://www.londonvictorians.co.uk/where-we-meet/
Written by Agatha